5-7 min read with research and links
Ever Noticed How You Feel After Walking in Nature?
Walking in nature has brilliant benefits on our mental health and wellbeing and it's so simple and effective. It helps us;
Clear our mind
Solve problems
Feel better, feel happier
So what's happening to us on a walk in nature?
In this blog post, I'll share my personal and professional experience as a Walk and Talk Life Coach, with some of the incredible research that shows us the greater benefits of walking in nature, rather than urban places. Plus how we can make it happen.
My Midlife 'Walk and Whinge'; How I Rediscovered Walking – and Talking
I'm going to share my experience of rediscovering walking and the fab mental health benefits of walking in nature, which for me is in my local urban parks, during a tricky period.
In my mid-forties I felt stressed and anxious about my then HR career and general life – I felt stuck. My head was full and I was full of self-criticism and doubt. My usual glass of wine in the evening exacerbated my anxiety and sleeplessness – not unusual in perimenopausal women or for those with anxiety, but I didn't realise I was in the perimenopause back then.
So instead of meeting friends for a moan and a drink, I'd go for a 'Walk and Whinge' in Dulwich Park or Beckenham Place Park (large, London urban parks), with my brilliant mates Shelly and Jo.
The Walk and Whinge was perfect for nailing the daily steps whilst releasing an array of emotions! Whinging, laughing, crying…. I always feel better, like a mental weight had been partially lifted. It helped my mental health and wellbeing, but it was only part of the solution.
No coincidence that this later evolved into my job today as a Walk and Talk Life Coach – more another time. But my work as a Life Coach has made me realise that my mates and I were not unique in this experience.
Read more about the 'Perimenopause and Why you Need to Know..', here.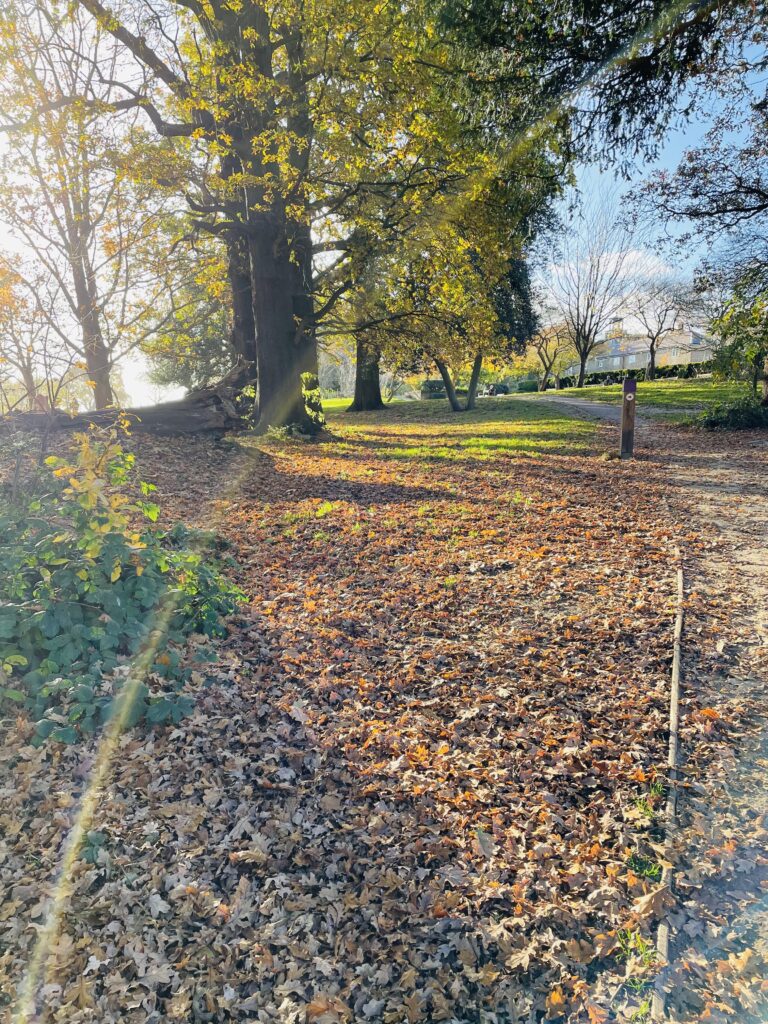 Beckenham Place Park – a go-to for an inspiring walk and think
So What's Going on?
Researchers have reported for decades, the positive effects on our mental health, wellbeing and physical health whilst walking. Many of us will already know and feel this. But it's the walking in nature part that's interesting.
According to research, walking in nature seems to have a greater, positive impact to wellbeing and mental health, rather then an urban walk.
The Benefits of Walking in Nature our Mental Health and Wellbeing
1.   Walking in nature reduces feelings of stress
A walk in nature reduces activity in the brain areas responsible for processing stress, according to a recent study. Linked to a decrease in the activity in the amygdala – the part of the brain that processes fear/threat and 'negative' emotions, a walk in the park or by water can help soothe and calm you. For best results, 60 minutes of walking in a natural setting is recommended, though other research shows as little as 10 minutes (in some young adults) can help too.
Take it a step further and forest-bathe. Shinrin-yoku is a sensory experience of allowing oneself to absorb and be with nature, whilst walking. In the pine and cedar forests in Japan and South Korea, doctors prescribe individuals presenting stress symptoms (in particular), to forest-bathe and destress.
You can enjoy forest bathing in the UK and I'd recommend it, even in an urban park setting. I did in 2021 in Crystal Palace Park with Parkbathe. My experience is here.
2.   We find mental clarity walking in nature
If you walk in nature to clear your mind from the busyness of the day, then you're on to a winner.  Stephen and Rachel Kaplan's 'Attention Restoration Theory' (1989) suggests that our brains go through 4 different stages before effectively getting a reset. The trick? Set the right conditions – be in nature.
The first stage is a clearing of the mind – whirring thoughts and worries subside when we allow them to surface and flow out, in nature. Like a 'declutter', if we rid of the old and no longer useful stuff, we can make space to relax and think more clearly.
Hester van Hien from Tidylicious is a Professional Organiser and notices the similarities in her work;
"When I help people to declutter their home, it's not just about creating a tidy home. It's also, or perhaps even more so, about creating an environment where you can relax and do the things that are important to you. Such as spending more time with your children or partner, or reading a book without feeling that you 'should' be doing something else.'
Shane O'Mara, Professor of Experimental Brain Research at Trinity College Dublin, sums it up nicely in his excellent book, 'In Praise of Walking':
"Walking gives me the freedom to think things through, to have a quiet dialogue with myself about how to solve a problem."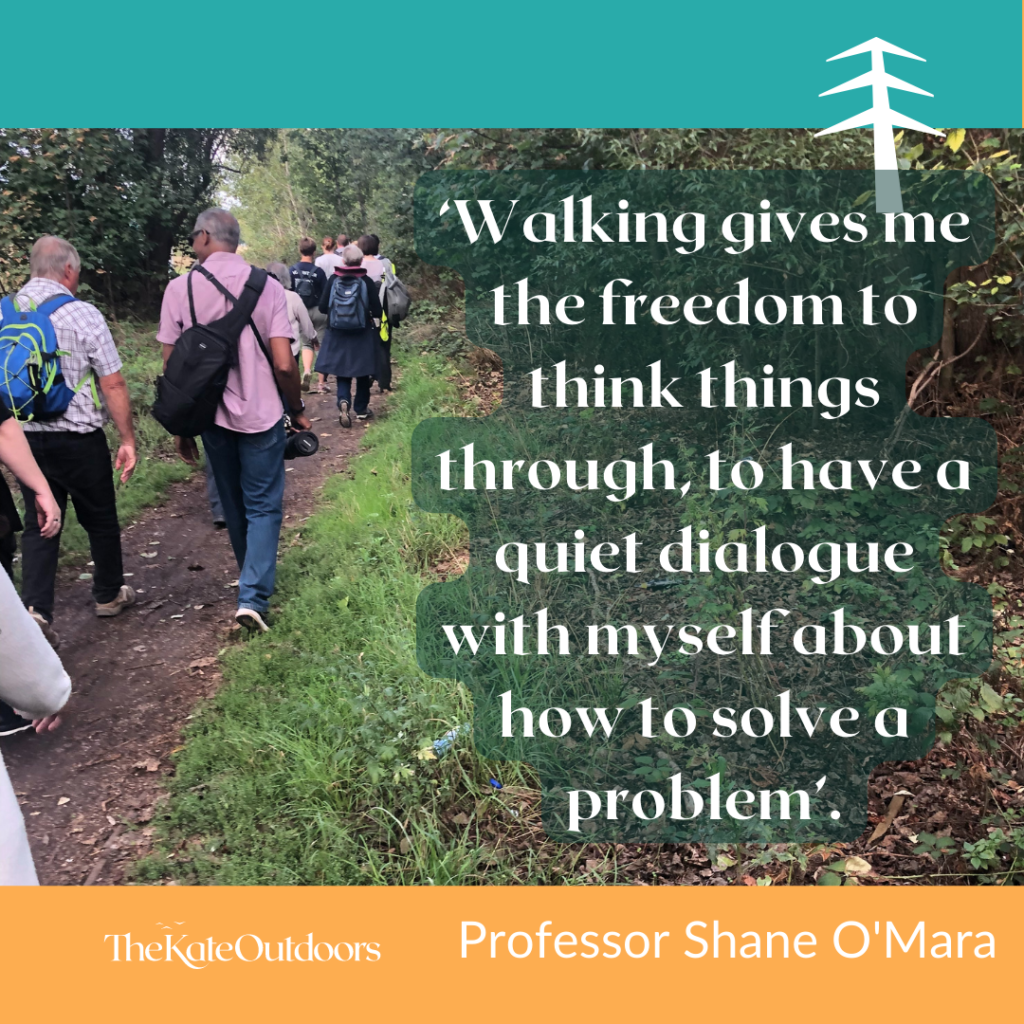 3.   Walking in nature improves our mood
Do you notice you find walking in a green space or by water more enjoyable than an urban street? Participants in one study vastly underestimated how much better they would feel taking the nature/scenic route on their large uni campus in Ottawa, Canada,, rather than one of the underground walkways available for extreme weather conditions. There was about a 33% increase in individuals' self-reported good mood on the scenic route, over those who had taken the underground walkway.
Could a Walk in Nature Help you Think More Clearly?
We know a walk outdoors in a calming, natural environment will;
lift our mood – positive emotions
clear our head from whirring thoughts and endless to-do lists and – better wellbeing
enable us to feel soothed and less stressed – rest and digest
Looking at the 45 year old me – a midlife woman unknowingly starting her menopause journey, I'm grateful I worked out that being outdoors on a walk made me feel better both mentally and physically. I'm grateful for that Walk and Whinge (now no more!) with my lovely Shelly and Jo.
A walk in nature helps me think clearly – because I slow down and I'm more present. I ask better questions, I make better decisions.
And of course I've taken it further with my own Walk and Talk Life Coaching – the antidote to online meetings and sitting at your desk.
So what's stopping you from taking a regular walk in nature for your wellbeing and mental health?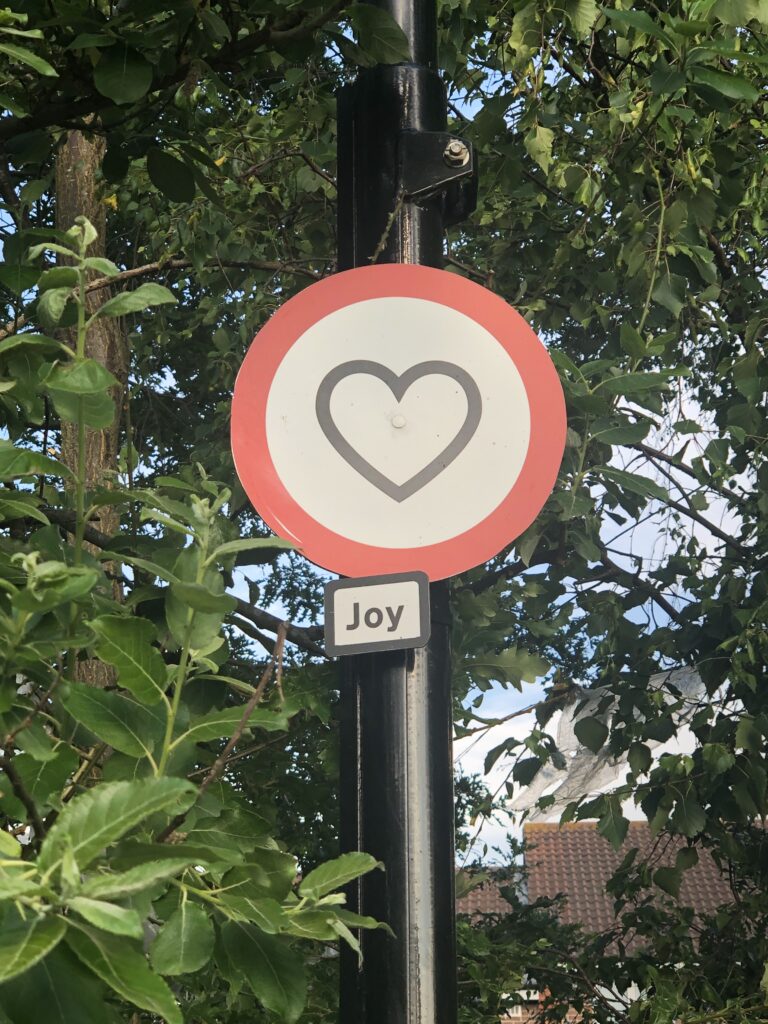 Create Your own Nature Walk for Wellbeing and Mental Health
1.   Design your commute to work with a walk
Take a walking commute outdoors before you log-on if you're WFH. Or, find a new scenic route if you already walk/part-walk to work.
= Encourages boundaries between work and home and gets your thoughts into order at the start of the day. You might even find some joy!
2.   Reset your brain and body at lunchtime with a walk
Struggling to find the time? Write it down as a goal or intention. Step by step (like the pun?!).
= Goals are more effective when you really want to do them and they're rewarding, they're written down and SMART.
3.   Go for a walk and disconnect from distractions
Walk solo and handsfree, which means do not use your phone – AT ALL. Good if you notice that your phone has become an extension of your body…
= Provides your brain with a much-needed break from the distractions and information overload (Attention Restoration Theory as mentioned before).
How does a walk in nature benefit you?
And if you're a woman in her midlife who likes a walk, good conversation and you're near South London…
…then join me on my monthly Walk and Talk for Midlife Women.
Our new website for Group Life Coaching – Pause Outdoors – COMING SOON!
PLUS Workshop; Managing the Midlife Mental Load – 17 March in Beckenham; details here