2 minute read and free resource
I know that right now there's a lot going on in the run up to Christmas holidays. Many of us will be looking forward to the break but feel the pressure of work – I'm one of them and I've heard similar this week with the people I coach. I've caught myself thinking at least 3 times this week that I'll use my Christmas break to catch up on work – HOLD IT RIGHT THERE!
If we don't take time to slow down now and reflect on what has happened in the past year, we will miss out on brilliant learning opportunities.  And a break – of course.
In other words, let's take time to slow down and reflect now, to be even better in 2023!
Benefits of reflection time
Making time to reflect can feel onerous when we just want to 'get on with it'. Yet it's time well invested because it enables us to;
Learn from the past – you have invaluable insights and key information right in front of you to learn from and use constructively
Focus – ensuring what's important to evaluate and reflect on can provide vital focus and direction for the future
Be more effective in the longer term  – if we spend our energy wisely we'll have all that fantastic focus and save time and energy
Consequences of not reflecting now
Although using our Christmas break to get on top of things might sound like a great way to ensure productivity, doing more isn't always doing better.
Possible consequences might be to our;
• Mental and physical health – are we caring for ourselves enough? A break is a break right?!
• Self-esteem – do we have a deeper need to be perceived as someone of value/importance to the organisation? Aren't we good enough?
• Effectiveness at work – are we as effective as we'd like?
• Personal relationships – will they suffer if our focus is elsewhere?
Paying some attention now to what's happened over the past 12 months might help us start 2023 with new focus and energy!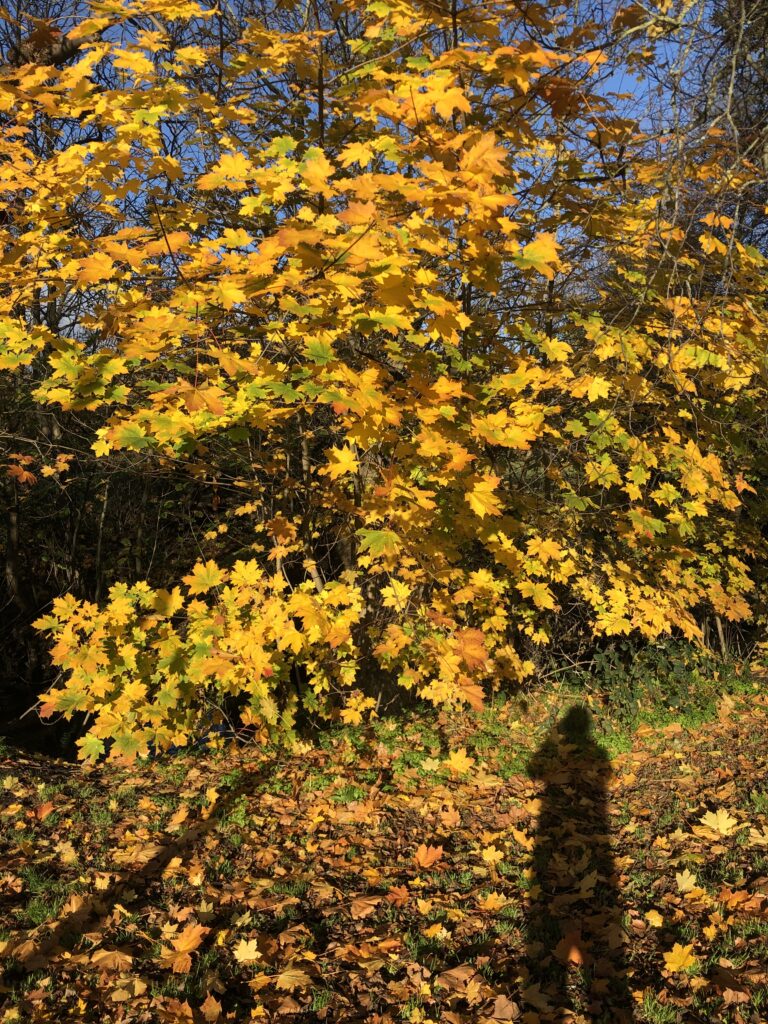 3 ways to slow down and reflect this Christmas
1.   Get outdoors – take in what's around you to feel inspired and less stressed. The natural patterns in nature called fractals (think leaves, branches, snowflakes)  actually soothe our brains leaving us feeling rested or refreshed. Read more here
2.   Go for a walk to clear your mind. Ever noticed how you think more clearly on a walk? Gentle exercise and scenery – take in what's around you
3.   Journal – to get your thoughts out on paper. Good for rumination because it provides perspective and exploring what's going on at a deeper level
Spending time reflecting means you can learn from the past, be more effective in the longer term, and apply what you learn to future challenges. It will also help you notice the good in you – your strengths and positive traits that make you unique. And it can help you consider the wider impact of your actions, going forwards.
I'll be planning some time to slow down and reflect more this Christmas – the good and the bad BUT with a focus on the good because that will keep it healthy and positive (I wrote about the Power of Positive Thinking here). And after this is posted, I wont be doing any more work until the New Year.

That's a promise to myself ❤️
Why not plan time to slow down and reflect now?
Coaching Questions to help you Reflect on 2022
What have I enjoyed this past year?
What I have achieved? Big and small
What does time well spent look like for me?
Want more?  Try this free download of Coaching Questions HERE.
The benefits of reflection time are huge and can be applied to all areas of your life. As we enter the Christmas break, reflect on what's happened this year – with kindness. You might be surprised at how much you've learned.