Setting and achieving goals is an essential aspect of personal and professional growth.
In this blog post I'm not talking about corporate goals that focus on profit. I'm talking about how to set goals in life and achieve them, the right way – in a way that has meaning TO YOU. Goals and intentions that make sense and ring true to who we are and what we want to achieve – our authentic self.
Achieving success and fulfilment often hinges on setting goals, but the approach is equally, if not more, crucial.
Setting goals is especially good for:
When you feeling stuck, you're procrastinating, you feel like you're not getting anywhere/not progressing. Having something to work towards gives hope and a sense of direction.
Your wellbeing – a sense of achievement, progress, reward
Working towards 'something' – and it can still be a good thing even when it feels quite vague.
This blog may help you to define the specifics in setting goals that are meaningful to you, and achieving them.
Here is a step by step approach that I've reflected on in my work as a Life Coach.
1. The Foundation: set your intention
Before diving into the specifics of goal setting, it's crucial to get clear on your motivations and intentions.
During the summer, I experienced my first ever reiki session, which was amazing! The practitioner invited me to set an intention, which surprised me. Yet I realised that this made perfect sense in terms of focusing and tuning my energy in that moment, which is what reiki is all about. By setting an intention, you get clear about what you intend to accomplish.
The deep-rooted reasons behind your goals offer an emotional and spiritual foundation that will keep you motivated on your journey. If you're clear on your intention, it will serve as a reminder as to why you're doing it.
2.    Make Meaningful Goals
Meaningful goals align with your values (what's important to you in life), and your passions. I like to think of values as a personal compass – a tool to help you navigate your direction and choices in life.
Goals that are in line with your personal values and interests are more likely to be engaging and inspire greater effort, according to the self-concordance theory (Sheldon & Elliot, 1998). An individual will put more effort into achieving goals they have created, and so are more likely to achieve them. This makes it easier to overcome challenges and setbacks.
Example:
I had a goal last year to swim outdoors all year round in the cold water, in my swimsuit. To do it, I needed to understand why I wanted to do it, the risks involved, borrow some kit from a friend (before buying it myself) and get on and do it. And keep doing it.
That goal ticked:
My values (take a guess?!)
My interests
It did a few other things for me:
It engaged me – once I was in the water, I had not choice but to focus on my breath and ease in
I put in effort and my valuable time – over and over
I loved it – mostly! But importantly, not always as there was a certain amount of stretch which took me out of my comfort zone – see next point.
TIP
Get clear and specific on what you're going to achieve by writing it down. And put it somewhere you can see. People who write down or visualise their goals are more likely to a) remember them, and b) achieve them.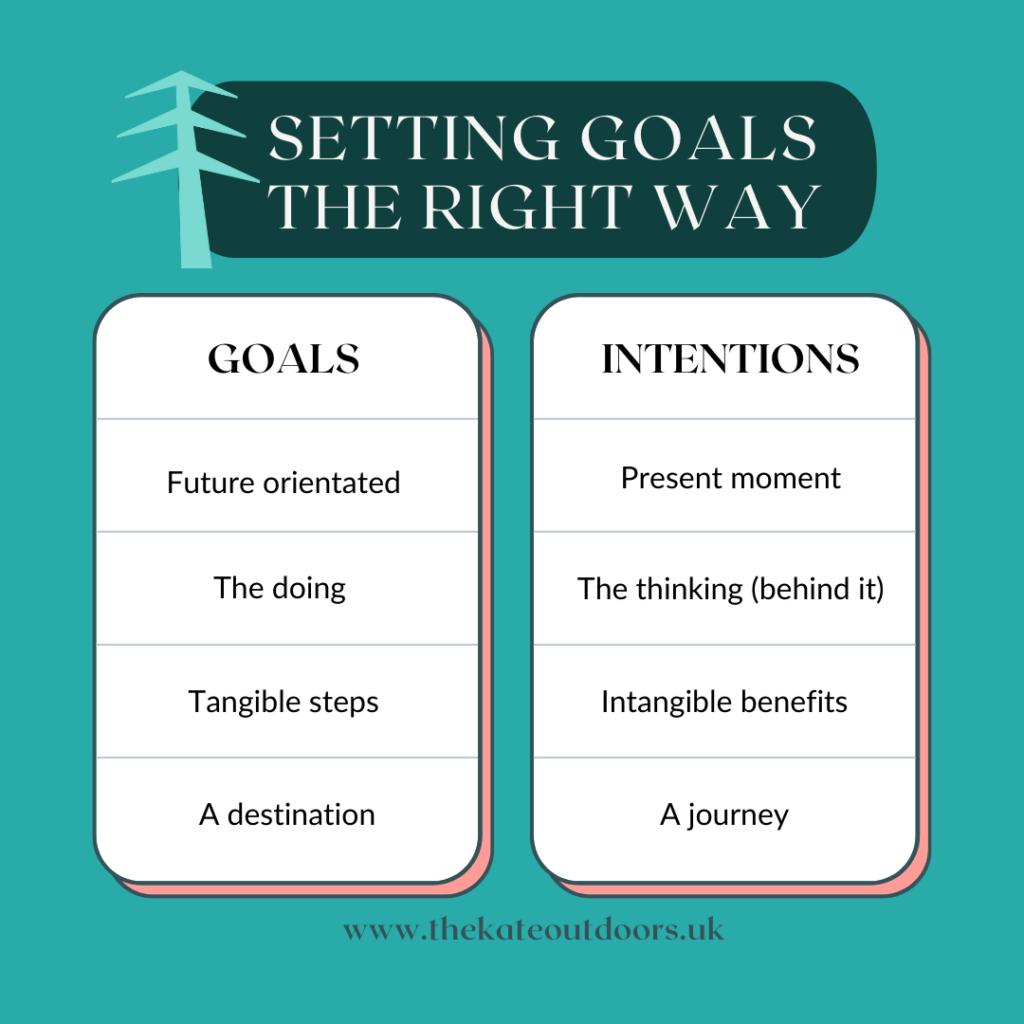 3.    Stretch yourself – move out of your comfort zone (and your own way)
Any goal must have the right amount of challenge, or stretch. Too much or too little – there won't be enough motivation to sustain the effort, nor provide a sense of achievement.
Recognise that you'll move out of your comfort zone, away from that place of familiarity and predictability and into your 'stretch zone' of learning and growth. Your mindset can adapt and take on a growth mindset approach, open to possibility. Your stretch zone may feel new and awkward at first – this is normal. You may feel frustrated as you begin to learn something new, and yet, you will learn. You'll recognise over time that you've a). done this before and b). you're moving closer to achieving your goal. Momentum! Keep doing it, and you'll keep moving into your new stretch zone.
I wrote a while back about growth mindset, read more here.
4.    Check-in and review progress – feedback
Regularly assess your progress, acknowledge your achievements, and be willing to adjust your course where necessary. This is a golden opportunity for you to constructively feedback on the work you're doing, to yourself. In a coaching session, I often 'check-in' with the person I'm working with to ensure we're on track with the specific goal or intention we've set at the start of the session. This check-in allows for adjustment and keeps the focus – invaluable feedback to both of us. So I invite you to do something similar: check in with yourself regularly and review the situation.
Some coaching questions you might ask yourself as part of this check-in and feedback process:
Am I on track (with X)?
Where am I at right now?
Am I heading in the right direction?
Do I need to correct this course?
What – however small it may seem, do I need to acknowledge as progress?
And this is particularly good to ask yourself especially when it might feel challenging.
Seeking feedback from a trusted external source is another useful approach; a mentor, friend or colleague or even an app. Could external feedback help keep you on track and accountable to your goal? I use an app to plan and track my exercise – measuring key milestones, keeping me engaged and motivated and providing a chance to see how far I've actually come. Feedback resources can offer valuable insights, point out blind spots, and suggest improvements.
Consider how you might conduct your own check-in. How can constructive feedback keep you on track with your goal?
5. Know and use your strengths to achieve your goal
We all possess unique strengths and talents. Identifying and leveraging your strengths (those things you excel at/your untapped potential/those activities that you really enjoy), can significantly enhance your chances of achieving your goals. Are you naturally curious, with a love of learning (strengths of Wisdom and Learning)? Or perhaps you're socially intelligent and kind (strengths of Humanity)?
Reflect on your natural abilities, and make a list of possible strengths.
A key initiative of the Positive Psychology movement was to create universal 'character strengths': some are mentioned above. Research and data was compiled from participants in different cultures and countries. Results I believe, still contribute to findings today. Find your character strengths here.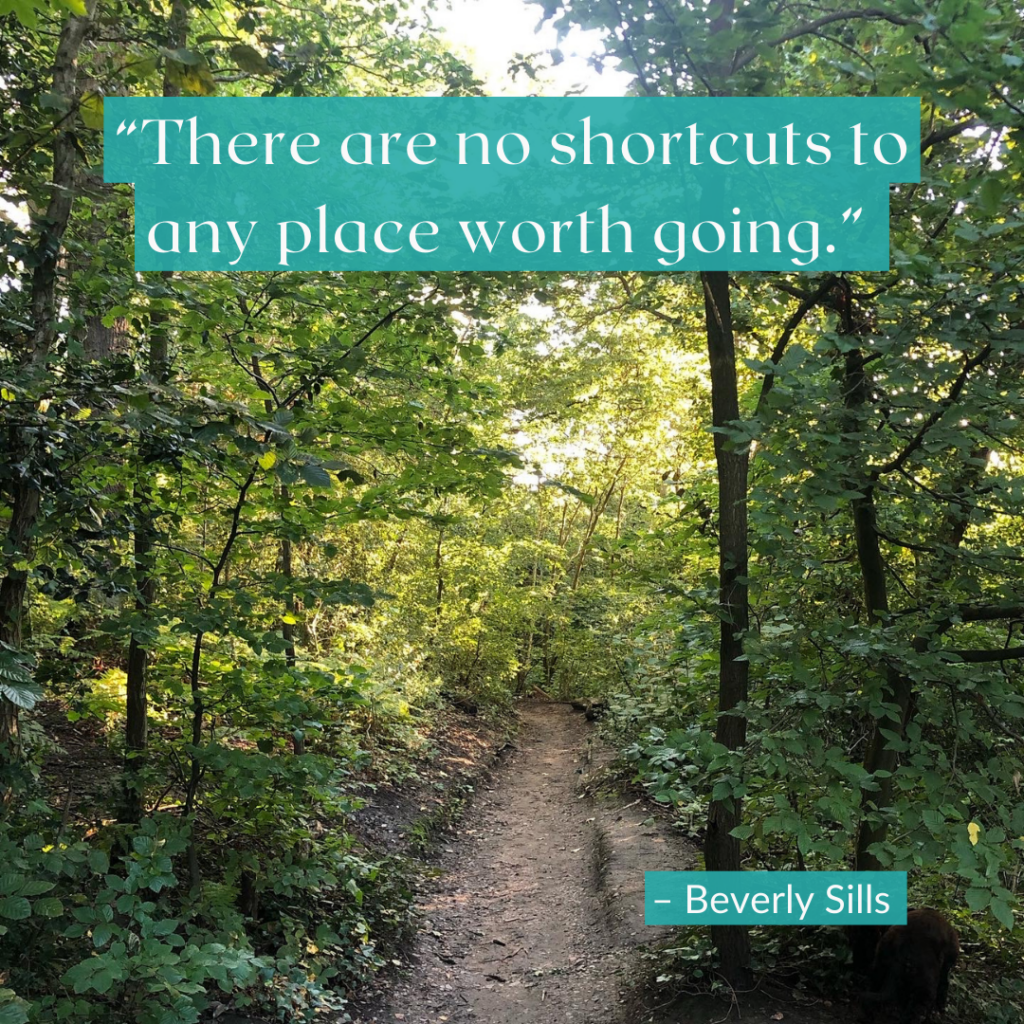 NOTE
These character strengths are universal strengths. To identify your own strengths effectively, get personal and specific.
Some coaching questions to ask yourself on helping identify your strengths:
When have I felt most energised so far this week?

What specifically was I doing at that time? How did I feel when I was doing it?

What do I get complimented on by people? What strengths might lie in those compliments?

What do I like about myself?

When am in flow?
I love the drilling down element in a coaching conversation, allowing the person to listen to what they're saying out loud, noticing what could be important. It's often a real eye-opener and of course, we're mostly walking and talking so it comes quite naturally.
I'll write more another time about unlocking strengths!
Whether it's your creativity, leadership abilities, analytical skills, or empathy, find ways to incorporate your strengths into your goal pursuit. Play to your strengths. By doing so, you'll work more efficiently, stay motivated and engaged.
In conclusion, setting goals the 'right way', is your way; find it and play with it. The process of setting and achieving goals is a journey, not a destination, to use a cliche! Be patient with yourself, be flexible with your approach, and celebrate your progress along the way. With a clear vision, determination, and the right strategies, you can achieve your goal.
So go ahead: set your intentions, seek feedback, choose meaningful goals with a certain amount of stretch, and use your strengths to pave your way to success and fulfilment.
My post on finding purpose might also resonate – click here to read about purpose and the concept of Ikigai.