Finding purpose in life can seem elusive, especially if you're in midlife and thinking that everyone else has their s*** sorted, or you're telling yourself, "I should know this by now"…
Having purpose and direction in life contributes to happiness and wellbeing according to psychologists, the NHS and mental health charities.
Here in the UK, government stats show that levels of life satisfaction are lower today than pre-pandemic. (Read more HERE).
The Japanese have a word for it – Ikigai, which roughly translates as;
'a passion that gives value and joy to life'.


More on this later.
Want to get out of bed on Monday morning with a spring in your step?!
Read on…
Meaning in life or Purpose in life?
I like this brief explanation;
Meaning in life – how we…
"make sense of life and our roles in it".
Purpose in life – the…
"aspirations that motivate our activities"
(Ivtzan et al., 2016 – source HERE).
Having purpose in life is the reason you get up in the morning.
5 Tools to Help you Find Purpose in Life
Here are some of the best tools I've shared with people I've worked with in my life coaching practice. I use them personally too, as they're useful check-ins for clarifying my direction.
1.   Self-reflection for self-awareness
Allow your mind to wander and reflect on your passions, values, and strengths. This process of self-reflection will provide valuable insights and clues into what truly matters to you.
Then, get your thoughts onto paper and note your insights and next steps.
Coaching questions for self-reflection:
What lights you up and energises you?
Where do you find joy?
What do you stand for?
When and where are you in flow and lose track of time?
I used a similar exercise when I was trying to work out what else I could do if I left my career in HR. Strengths, skills, values and more.
It's super practical and you can keep going back to it. Use this download HERE and get scribbling!
2.   Try new things
The unfamiliar can make us nervous – our brain tells us 'it's safer not to' and let's face it, it's easier to stay home, stress-free than go out. I invite you to leave your comfort zone and try something new or different to change it up.
Tips to try new things:
Go to that event you're interested in but haven't yet gone to. If you're a woman in midlife and haven't yet attended my monthly Walk and Talk, book you place HERE!
Take a different route to work, even though it's less familiar
Broaden your reading and listening tastes. A new podcast? A different genre of literature?
If the nerves kick in when you're about to try a new thing, ask yourself this simple question;
What's the worst that could happen?
And really go through the worst that could happen – get familiar with your fears (as they stop us from doing the things we really want to do).
Write it out on paper for perspective.
3.   Contribute to a cause greater than yourself
Connecting with others in need, being part of a community and offering something you are good at with no expectation in return, is humbling. Volunteering for a cause (perhaps you already do) that means something to you, provides a focus on others' needs and an alternative perspective on what else is going on in the world.
4. Cultivate a growth mindset
Dr Carol Dweck coined 'Growth Mindset' through her research. To find your purpose and direction, it's essential that you recognise the different mindsets you take on. A growth mindset allows for personal growth and development. A fixed mindset limits your potential.
Tips to cultivate a growth mindset;
Embrace challenges (rather than 'problems') as opportunities to learn and grow
Embrace failures as stepping stones to success
Believe in your ability to improve and adapt
Surround yourself with positive influences and note who they are and how you feel
Read more about growth mindset in a previous blog, where I skilfully resisted IKEA meatballs (!), HERE.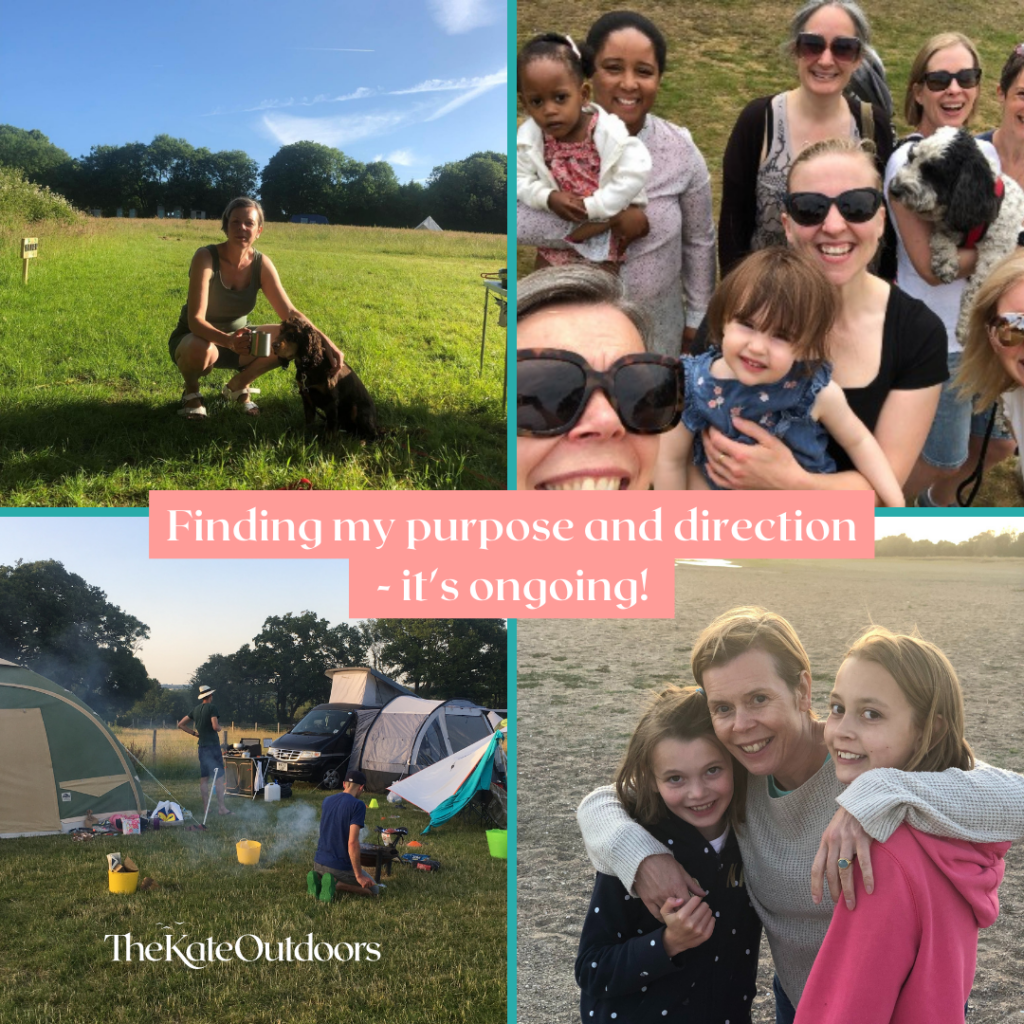 5.   Get intentional and set goals
Once you have a clearer understanding of yourself, set your intentions with meaningful goals. Goals give you direction and serve as a roadmap to your desired future/ They're even more powerful when they align with your values.
Make your goals:
Specific
Measurable
Achievable
Relevant, and
Time-bound
= SMART
Break down goals into smaller, actionable steps, and celebrate your small wins along the way. It's a cliche I know, but remember…;
...it's not the destination but the journey that counts

.
Read more HERE.
6.   Find your Ikigai
I referred to this term earlier; Ikigai is a Japanese concept that aligns your purpose with values, passions and more. Develop your awareness of your being in 4 areas.
It's a tool I'm starting to use more around purpose in work and career. Great if you're thinking 'what else could I do that suits with my interests and values and what I'm good at'.
Tips to find your Ikigai – Ask yourself these questions:
Passion – what do I love to do?
Vocation – what am I good at?
Mission – what does the world need?
Profession – what can I get paid for?
Find your Ikigai, using my questionnaire! To claim it, join my mailing list on the button below.

Final word
Be kind on yourself. 
Finding purpose and direction means different things to different people – we're all unique. For me it's ongoing. I seem to hit key milestones, take smaller stepping stones and a few detours. Yet I'm continually learning and leading my own way, so I like that.
Book a call with me to find out how I can help you find purpose and direction on the button below.

Resources
Book recommendation; Ikigai: The Japanese Secret to a Long and Happy Life – Francesc Miralles and Hector Garcia
Read more about the concept of Ikigai from the Japanese government, HERE