🤔 You've got a big decision to make. But how do you make the right decision when it feels high risk or just simply, really important? It can fill you with fear.
Your mind plays havoc with various unhelpful thoughts about the decision; fear kicks in, pressure, rumination too and you dwell on negative thoughts and stories you've built up in your head. This adds to the anxiety and nerves you're feeling. Maybe you're even avoiding it, pretending it's not there. Argh!
'What if I make the wrong decision?'
'What if it puts me in financial jeopardy?'
'Is now the 'right' time anyway?'
You might have a big decision to make right now;
Career change – how do I change career and make sure it's right for me?
Which role should I accept?
I'm at a crossroads in life and not sure which way to go now
Direction – where the heck am I going?!
In which case, READ ON! for some fab coaching questions to help you make or at least make progress, with that decision.
The decision I needed to make
When I started my life coaching business 3 years ago, I dreamed of taking August off, a long summer break and still have clients who wanted to work with me afterwards.
A huge risk ⚠️
No money in August (self-employed)
No new coaching clients or work leads
Is this a way to run a new, small business when you've given up your stable, secure job?
And yet freedom emerges through uncertainty.
The pay-off 🌟
I could get 'the break' I dreamed of
My coaching clients might be OK with me taking a longer break/not around, and have new people to work with in September
I could feel like I've had a proper break and go into September with new energy
This year I made the decision to take off August, despite these risks and so far it seems to be going pretty well.
The change❓
I've reflected A LOT about this; the change is down to one significant thing – MINDSET 🌠
💫  I've changed from being overly worried about the risks and whether it's the 'right' decision, to embracing possibilities and leaning in to uncertainty
💫  I recognise and engage my strengths and characteristics in my decision; my ability to bounce-back, curiosity, bringing an alternative perspective, action and learning
💫  I recognise my life successes and failures as having positively contributed to the 'now'; whether in my childhood, HR career, being a Mum, Wife, daughter, friend etc
💫  I believe in my abilities and purpose – to help and enable others with what they want to achieve
What is mindset?
Mindset is the set of beliefs that shape how we personally make sense of the world; how we think, feel and act. Mindset means that what we believe about ourselves will influence our ability for success or failure. It's interchangeable – your mindset depends on the situation and you can have a Fixed or a Growth Mindset according to Dr Carol Dweck.
Read more here about how to develop a growth mindset in my archive blog post, here.
A professional sports person is likely to have a coach to help influence their 'inner game', as well as the obvious outer game of their given sport. The Lionesses' Head Coach Sarina Weigman, talks pragmatically about her belief in her team's resources, abilities and strengths. And so people might use a Life Coach to help their inner game and get the results, too.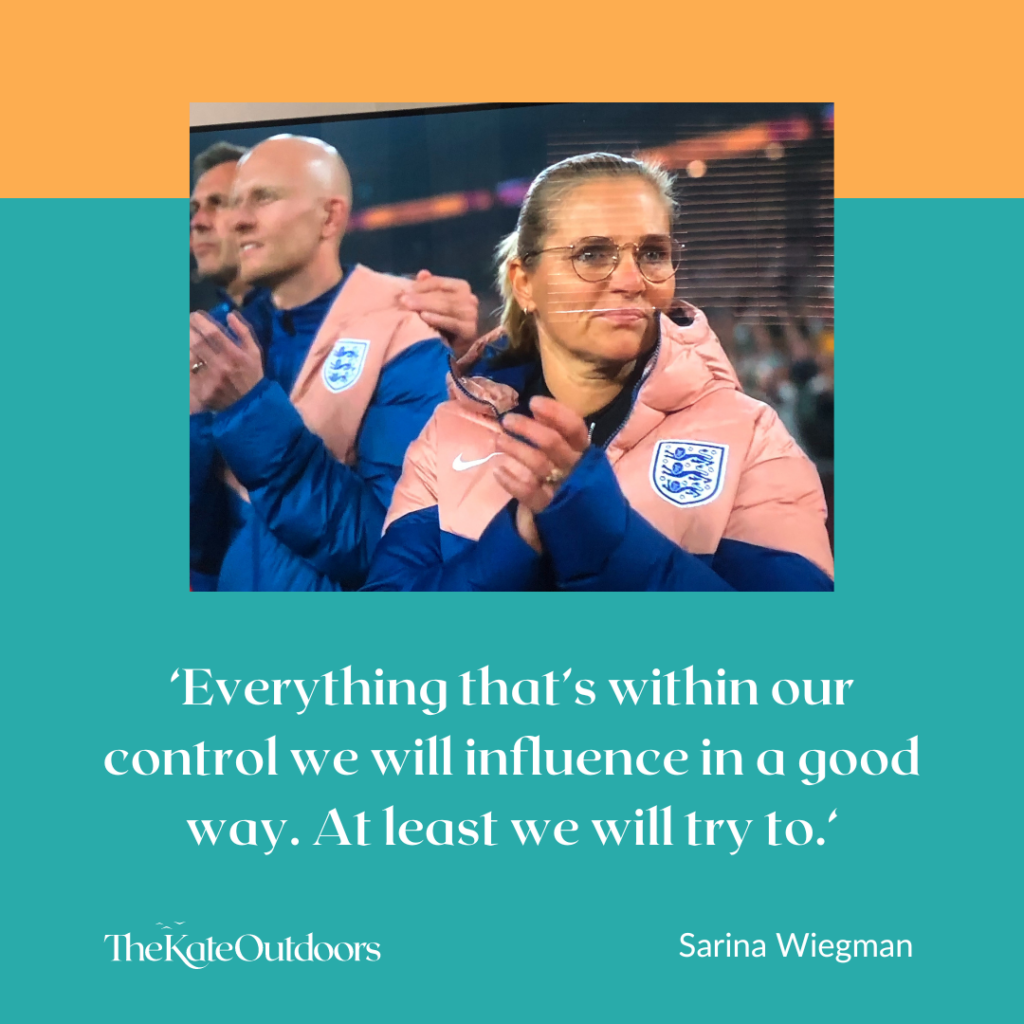 Mindset is reflective work and is an essential part of life coaching – identifying what's getting in the way of where you want to be.
From dreaming that I could take August off, to making this happen successfully let's be clear; my mindset changed over time, with support, challenge and this reflective work.
However, the dream has not happened in the way I'd imagined..!
💪The reality of making such a decision 💪
Nearly 3 weeks into August as I write this…my decision was good and the right one to make, but the reality is that it hasn't worked as I imagined.
I haven't had the break I dreamed of, yet.
And I say this with honesty and realism because I dislike BS life coaching blogs.
This is what I notice;
💫 PERFECT DECISIONS/ the belief that it's the utter and only truth, are not the REALITY – and red flag – you can slip into a fixed mindset if you're dead-set on achieving the dream in that way
💫 GOOD ENOUGH DECISIONS can be actually BETTER in unimaginable ways, giving wiggle room and space to breathe through any pressure, allowing for a growth mindset and freedom in the uncertainty
Which play to some of my strengths – no coincidence.
What's happened is this;
I've dipped into work more than I planned; I'm OK with that, it's been successful
I've taken 'micro- breaks' instead of a longer break – a day at the lido in the sun (lush!), spent lovely time with my kids, friends and family (main picture)
and
My actual holiday is about to start! 💪🏼
So here's the thing;
🌟  By making a GOOD ENOUGH decision, instead of the right decision, you can still be pretty pleased with the result and even achieve more than you'd imagined.🌟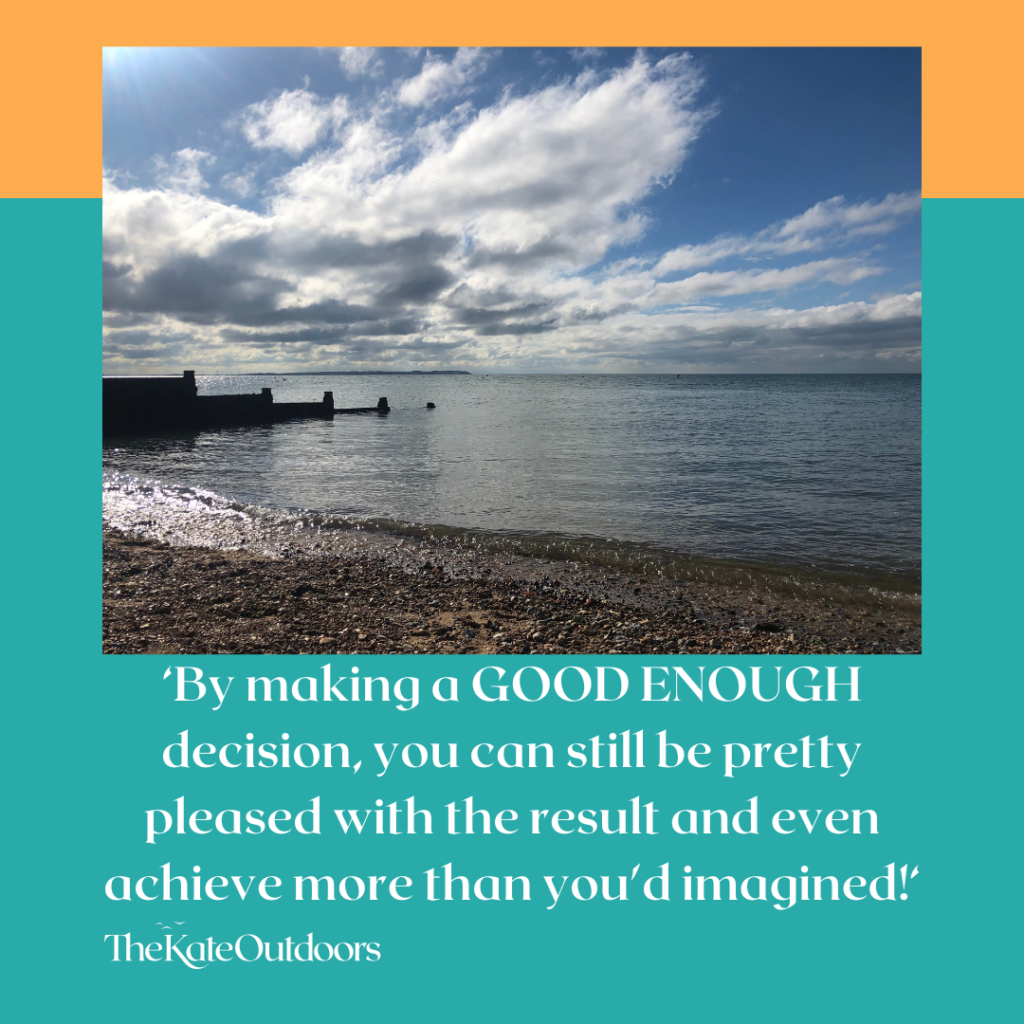 Things I notice about 'good enough decisions', rather than the 'right' decision in life coaching sessions;
They're in line with a person's beliefs, values and purpose
They play to a person's strengths and characteristics
Good enough decisions over the 'right' or 'perfectly laid out plans', are better in unimaginable ways
It's a reframe – a good enough decision that's thought through and with integrity is in fact, the right decision!
And it's a privilege to listen to clients talking about what effectively, are their WINS over their FEARS! 😊
Some FREE coaching questions to help make a GOOD ENOUGH decision
What is the opportunity here?
What's possible?
What's exciting about this?
What's the challenge here?
How does making this decision fit in with my beliefs and values?
What do I need to know, use or get, to make this decision?
..And…do I really need to?
What's the worst that could happen?
What if it works out exactly as I want it to be?
What do I need to do now?
My belief is that YOU KNOW THE ANSWERS; they may be buried and you may need some help finding them, but they're there.
I'll be switching my phone to pretty much OFF, for the final 2 weeks of August. I know my decision to take off August hasn't quite gone to plan, YET I'm SUPER HAPPY with how it's worked so far and how I've been able to move with it.
Good enough decisions, are more than good enough.
Let me know if these coaching questions help you make a big decision!


And if you'd like to find out how I can help you make a good enough decision, book a call with me above. 💚